Model NO.: DCM-039

Tolerance Level: ±0.05mm

MOQ: 100 Pieces

Thickness of Coating: 0.02-0.05mm

Delivery: 10-15days

Sample: Available

Max Working Temperture: 80 Degree(N Series)

OEM: Available

Size: D6*25 mm

Trademark: DJH

Transport Package: Standard Export Carton

Specification: SGS

Origin: Shanxi, China

HS Code: 8505111000

D6*25 mm Rare Earth Sintered Permanent Cylinder Shape NdFeB Magnet


1. Magnetic Material Manufacturer;
2. Wholesale price offer with LOW MOQ.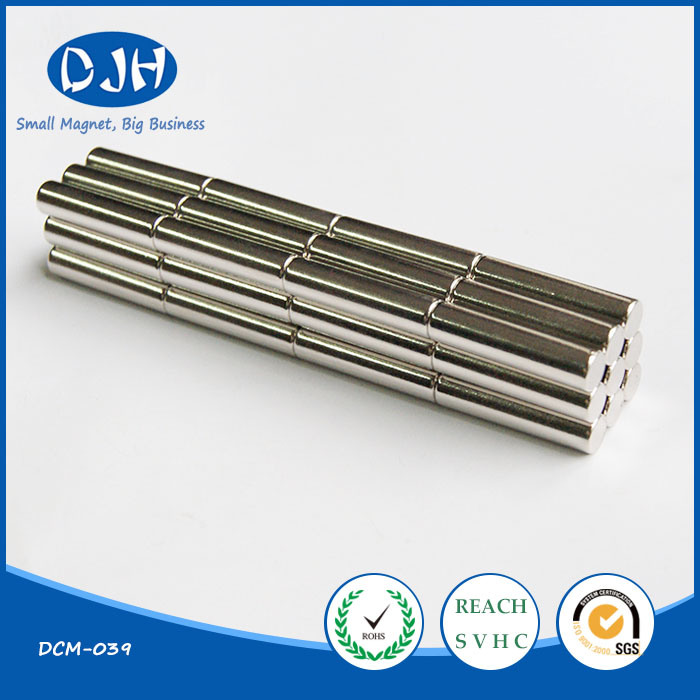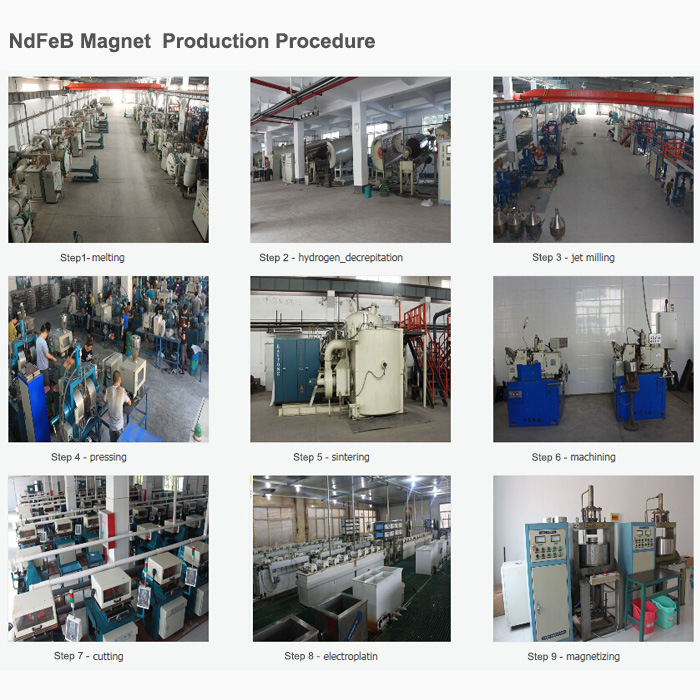 Description:
| | |
| --- | --- |
| Product Number: | DCM-039 |
| Material: | Neodymium Iron Boron(NdFeB) |
| Shape: | Disc |
| Imperial Dimensions: | 1/4'' dia. x 1'' thick |
| Metric Dimensions | 6mm diameter x 25mm thick |
| Dimensional Tolerance: | ±0.004'' x ±0.004'' |
| Weight: | 0.213 oz. (6.03 g) |
| Grade: | N42 |
| Coating: | Ni-Cu-Ni (Nickel) |
| Magnetization direction: | Through Thickness |
| Magnetic Face: | 1/4'' dia. |
| Pull Force(Lbs): | 4.13 |
| Surface Field(Gauss): | 6549 |
| Max Operating Temp(°C/°F): | 80/176 |
| Brmax: | 13,200 Gauss |
| BHmax | 42 MGOe |
Application: Rare Earth Magnets

are widely used in many fields, such as motors, sensors, microphones, wind turbines, wind generators, VCM in hard disk drives, printer, switchboard, loudspeakers, magnetic separation, magnetic hooks, magnetic holder, magnetic chuck, common daily use and so on.

Trade Terms:

1.Payment: T/T, Western Union, PayPal; 30% deposits; 70% balance before shipping.

2.Packing: Standard export carton

3.Shipping: By Sea (Guangzhou or Ningbo),

                   By Express ( DHL/ FedEx/ TNT/ UPS/ EMS etc.),

                   By Air

                   Accepted client's forwarder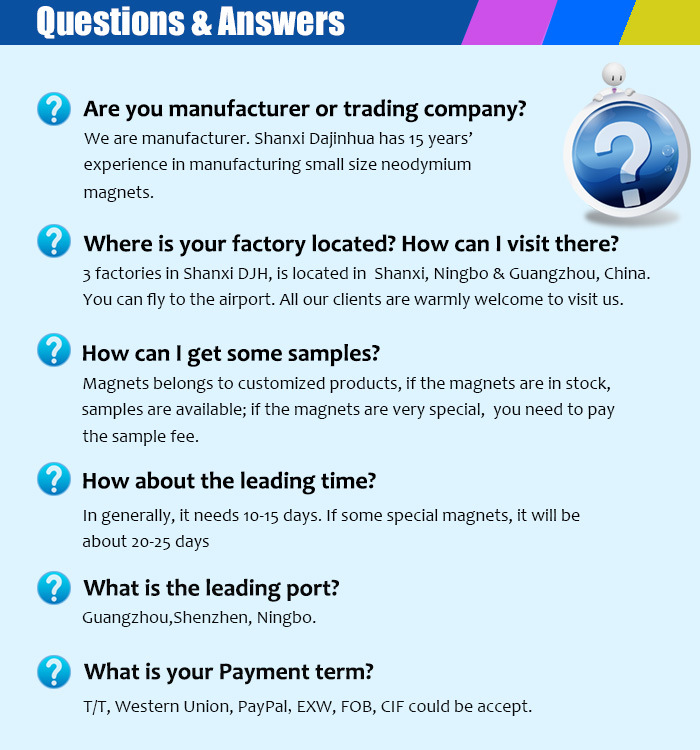 Specification:

Grade

Max. Energy Product
Remanence
Coercive Force
Rev. Temp. Coeff.
Curie Temp.
Working Temp.
(BH)max
Br
Hc
Hci
Bd
Hd
Tc
Tw
MGOe
kJ/m3
kG
mT
kOe
kA/m
kOe
kA/m
%/oC
%/oC
oC
oC
N35
33-36
263-287
11.70-12.10
1170-1210
>10.9
>868
>12
>955
-0.12
-0.6
310
80
N38
36-39
287-310
12.10-12.50
1210-1250
>11.3
>899
>12
>955
-0.12
-0.6
310
80
N40
38-41
302-326
12.50-12.80
1250-1280
>11.6
>923
>12
>955
-0.12
-0.6
310
80
N42
40-43
318-342
12.80-1320
1280-1320
>11.6
>923
>12
>955
-0.12
-0.6
310
80
N45
43-46
342-366
13.20-13.80
1320-1380
>11.0
>876
>12
>955
-0.12
-0.6
310
80
N48
46-49
366-390
13.80-14.20
1380-1420
>10.5
>835
>11
>876
-0.12
-0.6
310
80
N50
47-51
347-406
13.9-14.3
1390-1430
>10.5
>836
>11
>876
-0.12
-0.6
310
80
N30M
28-32
223-255
10.90-11.70
1090-1170
>10.2
>812
>14
>1114
-0.12
-0.59
320
100
N33M
31-35
247-279
11.40-12.20
1140-1220
>10.7
>851
>14
>1114
-0.12
-0.59
320
100
N35M
33-37
263-294
11.80-12.50
1180-1250
>11.0
>875
>14
>1114
-0.12
-0.59
320
100
N38M
36-40
286-318
12.30-13.00
1230-1300
>11.5
>915
>14
>1114
-0.12
-0.59
320
100
N40M
38-42
302-334
12.60-13.20
1260-1320
>11.8
>939
>14
>1114
-0.12
-0.59
320
100
N42M
40-44
318-350
13.00-13.50
1300-1350
>12.0
>955
>14
>1114
-0.12
-0.59
320
100
N45M
42-46
334-366
13.20-13.80
1320-1380
>12.2
>971
>14
>1114
-0.12
-0.59
320
100
N33H
31-34
247-271
11.30-11.70
1130-1170
>10.5
>836
>17
>1353
-0.11
-0.58
320-350
120
N35H
33-36
263-287
11.70-12.10
1170-1210
>10.9
>868
>17
>1353
-0.11
-0.58
320-350
120
N38H
36-39
287-310
12.10-12.50
1210-1250
>11.3
>899
>17
>1353
-0.11
-0.58
320-350
120
N40H
38-41
302-326
12.40-12.80
1240-1280
>11.6
>923
>17
>1353
-0.11
-0.58
320-350
120
N42H
40-43
318-342
12.80-13.20
1280-1320
>12.0
>955
>17
>1360
-0.11
-0.58
320-350
120
N33SH
31-34
247-272
11.30-11.70
1130-1170
>10.6
>844
>20
>1592
-0.11
-0.55
340-360
150
N35SH
33-36
263-287
11.70-12.10
1170-1210
>11.0
>876
>20
>1592
-0.11
-0.55
340-360
150
N38SH
36-39
287-310
12.10-12.50
1210-1250
>11.4
>907
>20
>1592
-0.11
-0.55
340-360
150
N40SH
38-41
302-326
12.10-12.80
1240-1280
>11.8
>939
>20
>1592
-0.11
-0.55
340-360
150
N28UH
26-29
207-231
10.20-10.80
1020-1080
>9.6
>768
>25
>1990
-0.11
-0.51
350-380
180
N30UH
28-31
223-247
10.80-11.30
1080-1130
>10.2
>816
>25
>1990
-0.11
-0.51
350-380
180
N33UH
31-34
247-271
11.30-11.70
1130-1170
>10.7
>856
>25
>1990
-0.11
-0.51
350-380
180
N28EH
26-29
211-236
10.40-10.90
1040-1090
>9.8
>784
>30
>2388
-0.11
-0.51

350-380

200
PPGI Corrugated Sheet,Corrugated Roofing Sheets,Galvanized Corrugated Sheet,Clear Corrugated Roofing Sheets

SHAOXING YOTO IMPORT&EXPORT CO., LTD , https://www.sxyoto.com